For many people, vacation is a time of rest from everything. During these few days away from home, relaxation is the only thing that matters. Work, household chores, and often diet and sports are of secondary importance. However, if you are a true BJJ lover and the scenario of skipping training during your vacation sounds terrible, nothing is lost! In a well-planned vacation, everything can be combined. Activity and relaxation can intertwine, giving great results. Of course, sometimes it is good to rest from jiu-jitsu, especially if you are injured. However, if you are in full strength and have the desire to train also on vacation, such training in a different place than your usual gym can be very valuable. Jiu-jitsu vacation will give you a different, fresh perspective on jiu-jitsu, which will positively improve your BJJ game. 
One can therefore say that vacation and jiu jitsu can go really great together. And Oceanfront Resort Hard Rock Hotel Maldives, with its BJJ training offer, proves it perfectly. In this place, you will experience not only the charms of exotic holidays, sunny weather, beautiful beaches, and a clear ocean but also a good sweat during outdoor BJJ training. And if combining these things sounds to you like a dream come true, then this five-star beach resort in the Indian Ocean is your perfect vacation destination. Read more about the best jiu-jitsu vacation.
Maldives
The Maldives is famous for its white beaches, turquoise waters, and splendid conditions for watersports and diving. It is also is one of the few countries in the world where temperatures below 0 degrees Celsius have never been recorded. Therefore, Maldives is a dream destination for people who value good weather, peace, luxury, and paradise landscapes.
This island nation is located in the Indian Ocean, closest to the southern tip of India and Sri Lanka. The archipelago consists of approximately 1,200 islands located on 26 atolls, which are divided into North Atolls, Central Atolls, and South Atolls. Atolls are flat coral islands that grow on volcanic rocks. They do not have a stable base and therefore are in danger of being flooded by the ocean waters. Currently, the highest elevation in the Maldives is no more than 2.5 meters. And of the thousands of islands and islets, only 300 are inhabited.
The Maldives are tropical islands in the full sense of the word. There are two distinct seasons: dry (from December to March) and rainy (from May to November). During the dry season, there is a pleasant temperature of 26-29 ° C and average air humidity. The rainy season is characterized by temperatures above 30 ° C, with heavy rainfall and thunderstorms. It doesn't mean, however, that it rains every day. Weather is just more changeable and unpredictable at this time. April, on the other hand, is a transitional month, during which you can expect high temperatures and occasional rainfall. The best time to travel to the Maldives is, therefore, the dry season or April. Regardless of the season, however, the water in the Maldives is always turquoise and warm!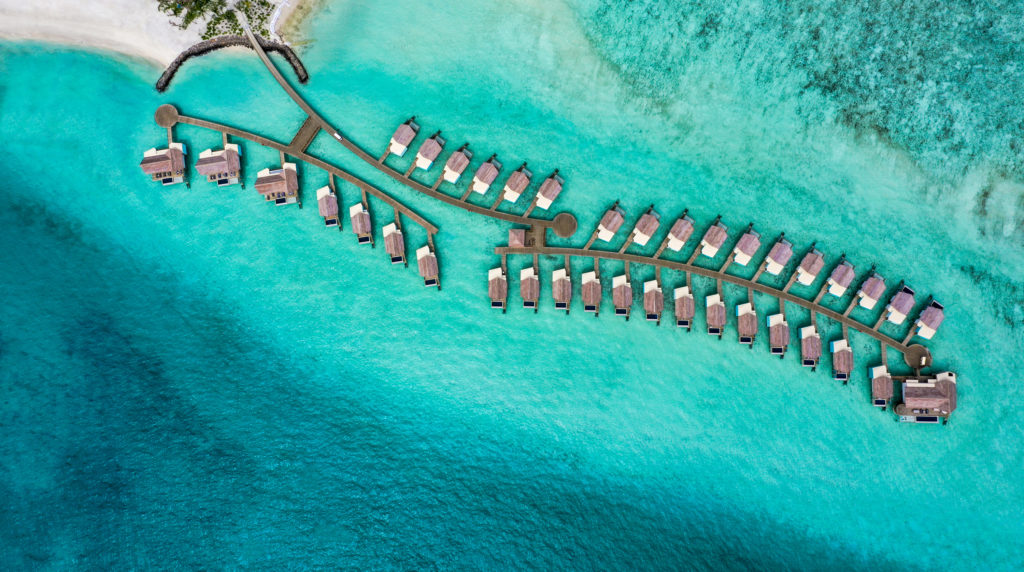 The Maldives is a picture-perfect country, and what is inherently associated with it are white beaches with fine sand, palm groves, and the sun. A trip to the Maldives is a good opportunity to relax and disconnect from the everyday world and to relieve yourself of the pressure of constantly chasing new discoveries. Quite recently, this new travel philosophy – barefoot luxury, has appeared in tourism, i.e. a journey close to nature in an atmosphere of peace and quiet. The Maldives is a country favoring this approach. However, a trip to the Maldives does not only mean lying on the beach. It is also a paradise for lovers of all sports, especially water sports! Luxury hotels such as the Hard Rock Hotel Maldives ensure a first-class stay. In such a resort you can dive, snorkel, fish, play tennis, beach volleyball. Go to yoga, meditation, beauty spa treatments, and massages. Hard Rock Hotel Maldives, however, also has one more ace up its sleeve, which is a possibility of BJJ training.
Hard Rock Hotel Maldives
Hard Rock International is a very recognizable brand nowadays. It is one of the most globally known companies and has venues all over the world. Cafes are most associated with Hard Rock, but the brand also has casinos and hotels under its wings. And the Hard Rock Hotel Maldives is one such unique hotel.
Located within Emboodhoo Lagoon, Hard Rock Hotel Maldives is only about a 20-minute boat journey from the largest airport in the Maldives -Velana International Airport. The resort offers direct access to an entertainment island with dining, shopping, and plenty of fun activities. Within untouched environs of the scenic South Male atoll, Hard Rock Hotel Maldives boasts 178 spacious guest rooms. Including family suites, beach villas, and villas by the water, exclusively on a beautiful island with inviting blue waters. And all of this makes this resort suited both for families, couples, and groups of friends. It is perfect place if you are looking for a jiu-jitsu yoga retreat.
Stay options
The hotel studios and suites are the most affordable rooms. There are few types of such rooms. You can choose between Silver Sky Studios with private balconies with ocean view and Silver Beach Studios with a private terrace with direct beach access. There are also two-bedroom Silver Family Suites. Such rooms include a master bedroom with a king bed, indoor and outdoor showers, a second-floor bedroom with bunk beds, and an ensuite bathroom.
And if you are interested in more expensive stay options there are exceptional villas. Inspired by the local culture, OverWater Villas, which feature tropical architecture infused with contemporary design. Gold Beach Villas with a private terrace with direct beach access, sun loungers, and ocean views. Overlooking the Indian ocean, Platinum OverWater Villas with pools, a private terrace, sun loungers, and direct lagoon access. More spacious Rock Royalty OverWater Pool Villa with luxury amenities and an infinity pool. And last but not least, located over the water with private boat docking access, a large outdoor living deck with sun loungers, and direct lagoon access – RockStar Villas that features a tuk-tuk bar and an infinity pool.
Just remember, when choosing your stay option consider its location. The best view and nicest water for swimming are OverWater type villas and suites facing south. Other rooms may have a slightly worse view, for example on the buildings in Male. It is also worth keeping in mind that facing south you will receive more sun on your sun deck.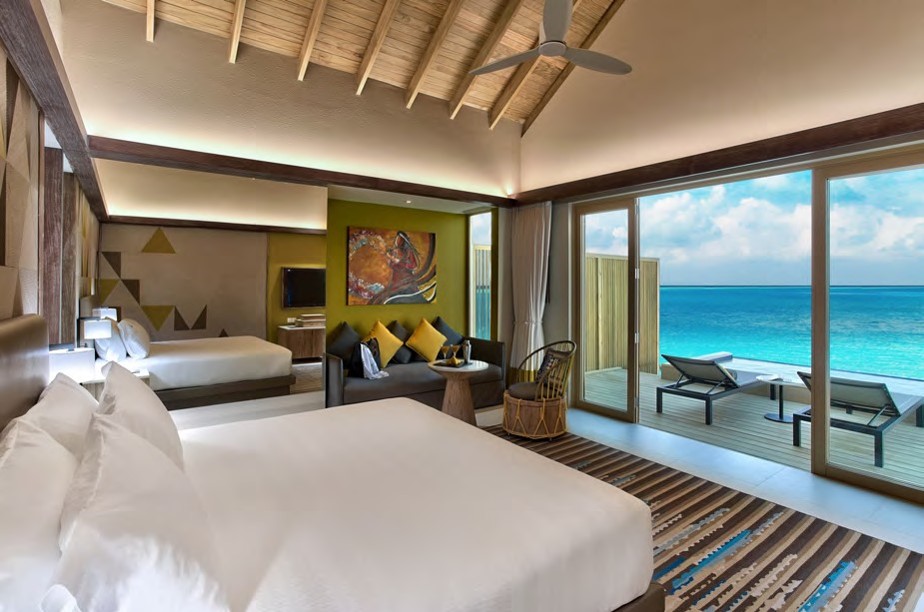 Restaurants and bars
In a hotel like Hard Rock Maldives, you can not only sleep comfortably but also eat and drink a variety of good things. A selection of really great restaurants and bars can be found there. There are really many options. You can, for example, go to a Pool Bar – a pool by day and lounge by night and all-day dining or to a Beach Grill. In Hard Rock Hotel Maldives, you can try almost everything. From international flavors in dining through Mexican-themed oceanfront restaurants and bars inspired by Latin American cuisine, offering Pan-Latin-inspired dishes to American classics at the signature Hard Rock Cafe. And if you don't feel like it's your cup of tea, you can always decide on in-room dining. At any hour of the day, freshly prepared dishes will be delivered to your studio or villa!
Hard Rock Hotel Maldives Jiu-jitsu Vacation
After you enjoy the heavenly beaches and eat your fill with various deliciousness, it's high time to take advantage of the attractive sports offer of Hard Rock Maldives! And it means it is time to go to the Red Mat, which is the affiliate of Checkmat Jiu Jitsu, the organization, that is one of the most successful BJJ teams in the world.
Checkmat
Checkmat is an international academy, competition team, and family of BJJ practitioners. Founded in 2008 by Master Leo Vieira – 6th degree BJJ black belt, who is recognized as one of the top competitors in the history of the sport. Checkmat now has affiliate academies all across America and almost 20 countries worldwide.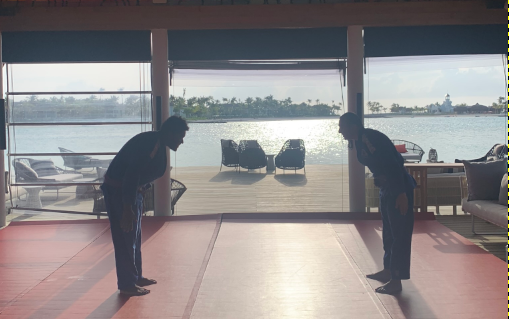 Red Mat
In the BJJ offer under the Hard Rock banner in the Maldives, you will find numerous options. There are complimentary introductory classes for all guests. Everyone is welcome, regardless of age and gender. The level of advancement also does not matter. Classes at Red Mat will be suitable for both beginners and advanced practitioners. Red Mat simply welcomes pro athletes and BJJ lovers from all around the world who are looking to combine a beach vacation with jiu jitsu. And the high level of classes is guaranteed by the patronage of Checkmat.
What is also really cool is the fact they offer free use of the Red Mat Gi's if you do not have yours with you. And if you have yours, there is free daily laundry for it. And Master Leo Vieira said about Red Mat as follows: "Red Mat in the Maldives at Hard Rock Hotel, part of the Checkmat Family is the new chapter in the Jiu-Jitsu Lifestyle. Not only is it the perfect place to introduce Jiu-Jitsu to hotel guests but it is also a paradise destination for athletes and practitioners to combine a great vacation with few rolls with our team there". So, don't miss this opportunity and combine some great rolls with an amazing beach vacation!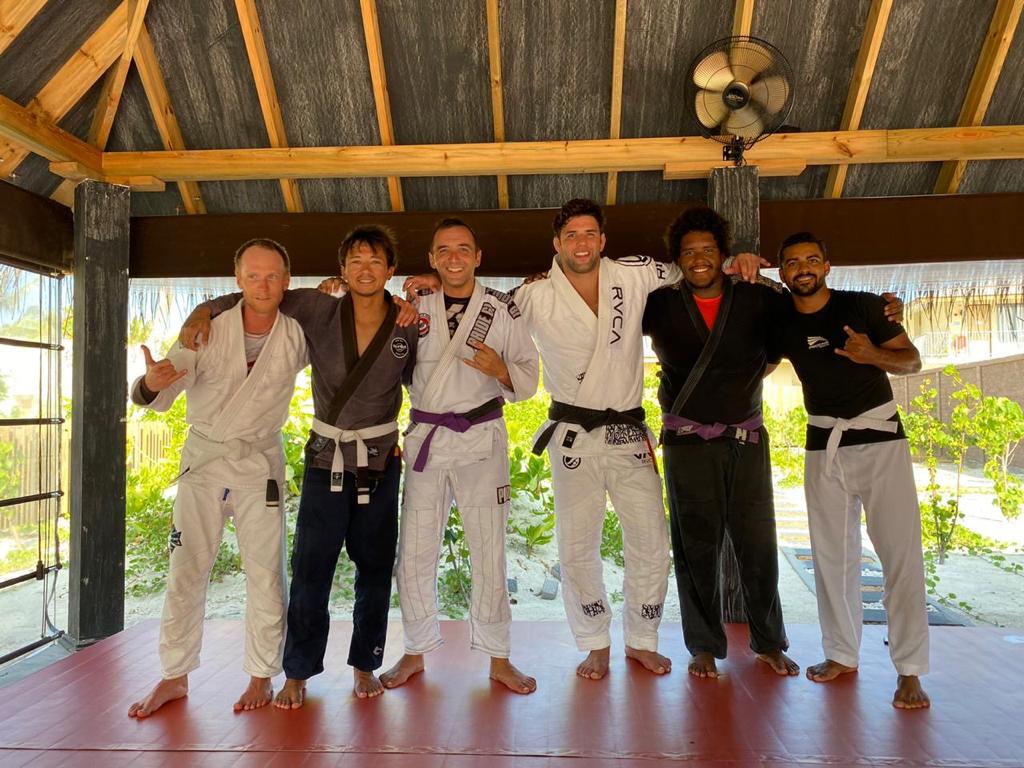 Instructor
Of course, for the classes to take place, you need an instructor. And at Red Mat Hard Rock Hotel Maldives, the coach is Mexican Miguel Daren Gomez. He is the part of Checkmat team and a brown belt under Leo Vieira. His over 9 years of experience in BJJ and achievements, such as the Mexican championship, mean that he has a lot of knowledge to pass on, and training with him will be very valuable.
Recommendation
In general, the recommendations of people who have been to the Hard Rock Hotel Maldives can be summarized briefly. They loved this place. And no wonder, because this resort simply provides the best jiu-jitsu vacation. When you are there, you can really feel like you are in paradise. The same things repeat in many positive opinions. People highlight the high level of the resort, the friendliness, and helpfulness of the staff, and the excellent food. What is also emphasized by customers is the cleanliness prevailing in the resort. The cleanness of the place is just perfect. Amenities in the rooms and the entire facility, the level of available activities and services, everything is on point. Moreover, people swear that the design of every single location in the resort is out of this world. Hard Rock just has thought it all so well! Every detail is considered, which makes this place truly feels like home out of the home.
And if the beautiful beaches, delicious food, and clear water do not convince you, like a good BJJ training, then take a look at the Lucas Lepri recommendation below. Because, if a guy who won all 4 "majors" at the black belt, adult-level (Mundials, Pan Ams, European Championship, and Brazilian Nationals) says it's amazing there, it means it really has to be like that. And if the recommendation of one of the most successful competitors in the history of the light division of BJJ does not convince you, then nothing will.