Bjj-spot.com is a participant in the Amazon Services LLC Associates Program, an affiliate advertising program designed to provide a means for sites to earn advertising fees by advertising and linking to Amazon.com
Winter is coming. Colder days are arriving soon or are already here. In order not to catch a cold or even something more serious, it is worth starting to dress properly for the weather. So, this means it's high time to start wearing jackets. However, forget about regular jackets from chain stores. There is something better than them. And it is a jacket created by martial arts passionate for other enthusiasts of such disciplines. So if you are a grappler, BJJ freak, martial arts lover, do not hesitate any longer and check out the Combat Jacket from DreamWeaves.
DreamWeaves
DreamWeaves is one of the newer grappling related clothing brands producing stuff like kimonos, rashguard, grappling shorts but also hoodies and tees. It is a collaboration of visual and martial artists whose goal is to create products with which to express yourself. Each of their things has a story and is made to inspire you to follow your dreams and overcome your fears. Even though they have been on the market only for the last few years, they have already made a name for themselves. It is thanks to unique, one-of-a-kind designs and the use of very functional, good quality materials in their products.
The Combat Jacket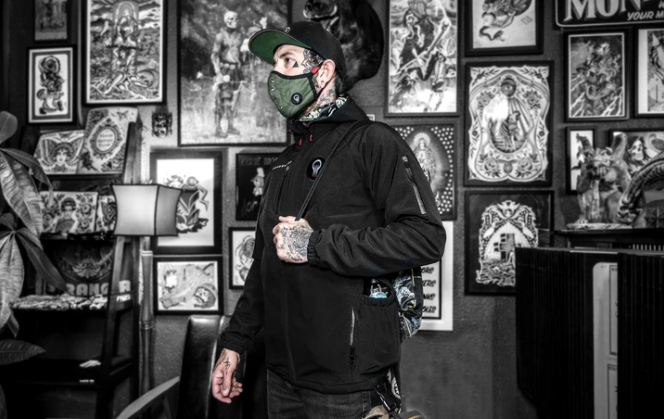 The Combat Jacket from DreamWeaves is exactly all that is mentioned above. Below you will find its description and benefits in each category.
Functionality and Components:
⚔️ Lightweight and durable Goretex Windstopper shell
⚔️ 7 discrete weather guard pockets
⚔️ Water canteen sleeve side pocket
⚔️ Loop Harness cargo fastener
⚔️ Pearl weave embroidered shoulder patch
⚔️ DryTek inside lining w/tiger camo x 10th-century hand combat weapons print
⚔️ Adjustable Hoodie and Waist
Starting with the functionality it is made from GoreTex Windstopper fabric. Thanks to this it is great protection against wind, rain, and snow. At the same time, it is also light, durable, and breathable. So it will serve you for a long time and you will not sweat in it. Another very functional thing is how many pockets this jacket has. It has as many as 8 locations to keep your stuff. And if you think that these are pockets where you can only hide your phone or wallet, you very are wrong. Thanks to this jacket you can comfortably carry a bottle of water or training gloves with you. The Combat Jacket got regular pockets in front for hands, chest one, and another on the left sleeve. There are also spacious inside pockets. And finally the coolest – the water bottle sleeve holder and loop harness strap. So this makes this jacket perfect if you like to travel light, not to take a backpack, etc.
Best of all, the functional advantages of this jacket are not over. The Combat Jacket has an option to adjust the size. Of course, it is about fitting within one size. It's not about making S from an L. However, as humans, we are very different. Two people ordering size M do not have to be the same size, someone has a longer torso, someone has shorter arms, etc. And that's exactly why the hood and waist of this jacket are adjustable. Thanks to this you have a custom fit. It is really cool because it guarantees not only greater comfort, but also thanks to the appropriate fit it simply looks better.
Combat Jacket Design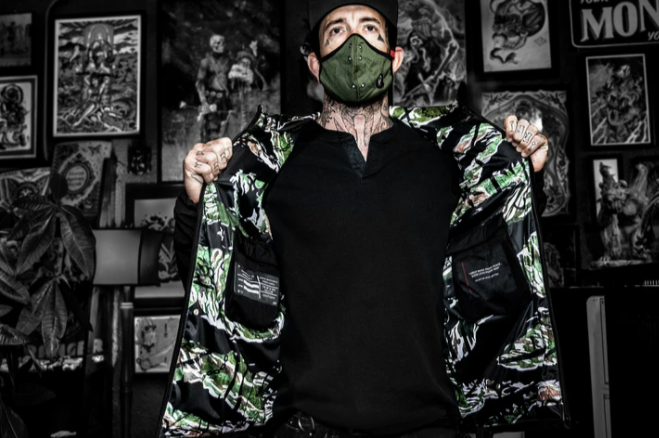 The design is also a strong point of this jacket. It is simple and yet unique. From the outside, it is classically black, only with inserts with the logo, the DreamWeaves lettering, and brand patches on the right arm and a hoodie. It is a really cool look, but it is the interior that's the best. It hides a true surprise. Unlike the outer layer, it is patterned and colorful. The base is irregular green and black stripes, on which you can see combat-related things like knuckle-dusters, shurikens, chains, etc. And the real attention to detail can be seen on the inner pockets. One has a quote from the Sun Tze Art of War. And on the other, there is a name tag.
The basics
Moreover, as for the basics, the Combat Jacket from DreamWeaves has a wide range of sizes. It doesn't matter if you are small or big if you like it there is a very good chance that you will find the perfect size for yourself. They start with XS and end with 3XL. And finally, the price of this jacket is really good. 89.00 $ for durable GoreTex Windstopper fabric, cool design, and lifetime quality guarantee is a true deal. This DreamWeaves jacket just has many advantages and is well worth the money. You simply get what you pay for and even more.