Lachlan Giles, an Australian grappler and black belt in Brazilian jiu-jitsu, is a modern David defeating Goliath, actually several Goliaths. You can say a real giant-slayer. For the uninformed: at the last ADCC he beat Kaynan Duarte, Patrick Gaudio, and Mahamed Aly — all 99kg or +99kg competitors (Lachlan Giles weighs only 77 kg). And that's the way how he just became the smaller grappler's hero at ADCC. As befits a hero, he must have his backstory and superpowers.
Lachlan Giles backstory
BJJ was not the first martial art Lachlan Giles trained. As a teenager, he was inspired by Jet Li's martial arts films and joined a kung fu class. The breakthrough came after about a year of training. Because then he saw a tape on the Ultimate Fighting Championship (UFC I) and was immediately in awe of Royce Gracie's jiu-jitsu technique. You can say that his life changed at that moment. 15-year-old Lachlan decided to join a BJJ academy and focus on his grappling.
His BJJ journey started with Tyrone Crosse, a coach that developed him from white to purple belt. Then, unfortunately, Lachlan Giles had a break from training due to a severe knee injury. He returned one year later but at this time his local club had suffered a few changes, for example, there was a new coach. His name was John Simon. It's him that awarded Lachlan brown and then in 2012 black belt. Another person who had a strong influence in Lachlan's jiu-jitsu game was Thiago Stefanutti. It is him that gave Giles his first Black Belt Degree.
Now he is known as one of the top Aussie competitors of his generation. Lachlan Giles earned his reputation through many podium placements in prestigious tournaments.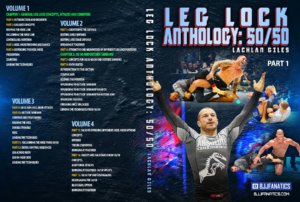 Main Achievements
1st Place ADCC Asia & Oceania Trials (2015 / 2017 / 2019)

1st Place IBJJF Pan-Pacific Championship (2016** / 2017**)

First Place IBJJF Pan-Pacific Championship No-Gi (2016** / 2017**)

1st Place UAEJJF Continental Pro (2018)

1st Place Kinektic Invitational 1 (2019)

2nd Place Boa Super 8 1st Edition (2015)

Second Place Boa Super 8 2nd Edition (2015)

2nd Place UAEJJF Grand Slam Abu Dhabi (2018)

3rd Place ADCC World Championship (2019*)

Third Place IBJJF World Championship No-Gi (2017)

3rd Place EBI 5 (2015)
* Absolute
** Weight and absolute
He is also the head coach at Absolute MMA. Still, not every good athlete is a good coach at once. Lachlan Giles, however, probably did not hear about it and in addition to his athletic successes, he also achieves coaching successes. Amongst them should be noted the development of such standout athletes as Craig Jones and Livia Gluchowska. 
If that wasn't enough, he wrote his thesis on knee rehabilitation, has a Ph.D. in physiotherapy, and put four peer-reviewed publications focusing on patellofemoral pain.
Lachlan Giles Techniques 
Before we get to his super abilities, it's worth mentioning his hero name. According to rumors Giles is sometimes referenced by his training partners as Velachiraptor. A mixture or Lachlan and velociraptor. Rumors are a slippery topic, so better let's get back to his skills. First of all, it is worth mentioning that he can use the strength of opponents against themselves. Another thing is the fact that Lachlan Giles does what he assumes. He realizes his plans from beginning to end. This was also the case for ADCC in the absolute category. In an interview, he said:
"I knew if I could go to the leg, I knew I could do some damage, that's what my plan was and that's what I did" 
After what we saw at ADCC and what he says in interviews we can safely include leglocks to his hero skills. It is worth paying attention to them, because as he says:
"Especially with leglocks you can go against anyone, it doesn't matter how big they are. It's you versus their leg. You know, you can break their knee no matter how big they are" 
However, as with superpowers and superheroes, nobody believes it until they see it with their own eyes. Therefore, it is worth not only read what a smaller grappler's hero Lachlan Giles has to say. It's also deserving of listening to and seeing. So here you go, watch and appreciate this real-life superhero!