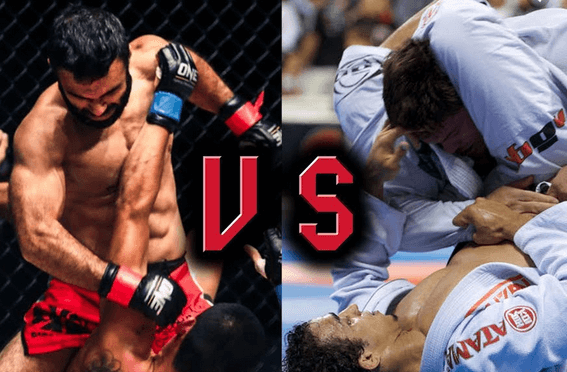 When the UFC first began it pitted fighters with completely different martial arts backgrounds against each other in a bid to find the most effective fighting style. At UFC1 Royce Gracie shocked everyone by using his Jiu-Jitsu to control and dominate much larger opponents before submitting them. Since then grappling has become a perquisite for anyone who plans to compete seriously in MMA. In the list below we look at the best MMA fighters that come from the world of Brazilian Jiu-Jitsu. The fighters have all competed at the highest level in BJJ competition and are now committed to pursuing MMA. We have kept the list strictly BJJ and have not included grapplers from other marital arts such as sambo and Judo. Read about Top BJJ stars in MMA in 2020
Top BJJ stars in MMA in 2020
Rafael Lovato
 Rafael Lovato is the current Bellator champion in their stacked middleweight division. He was the second American ever to win an IBJJF world title after BJ Penn and has also medalled at other major BJJ tournaments including winning gold at the notoriously competitive Brasileiros.
Lovato is a lifelong martial artist and has trained in multiple different disciplines since he was a child. However his passion has always been BJJ and his MMA style is heavily grappling based. He is currently undefeated in MMA with a 10-0 record. He won the belt by defeating former UFC fighter Gabriel Mousasi in a thrilling match.
When he is not competing he is runs his own BJJ academy in Oklahoma.
Demien Maia
Demien Maia is entering the twilight years of his MMA career but is showing few signs of slowing down. It is not impossible that Maia will win a UFC title during his career but that dream seems tough in what is now a stacked UFC middleweight division. He has twice challenged for the middleweight belt and come up short on both occasions,
Maia created the modern day blueprint for how to use BJJ in modern day MMA. He built on the work previously done by Royce Gracie and showed us how effective BJJ can be when combined with tactical striking and wrestling.
Maia has competed a staggering 30 times in the UFC since 2009. Along with Royce he is perhaps the greatest ever MMA grappler.
Garry Tonon
 Tonon may still be relatively unknown in MMA circles but BJJ fans have been closely following his transition into the sport. Tonon is a member of the Danaher Death squad and is famous for his high energy grappling style and leg locks. After several years on the superfight grappling circuit, Tonon decided to sign the Singapore based ONE promotion.
At ONE he has put together an impressive win streak of 5 matches. The most impressive thing about these performances has been his decision to stand and trade strikes instead of immediate seeking to grapple. This experience will stand him well for when he makes his eventual UFC debut.
Bruno Malfacine
 Another grappler who MMA fans may not yet be familiar with but is definitely one to watch. He is the most decorated grappler on the list and has won a stunning 9 world IBJJF titles.
Malfacine is current signed by the BRAVE fight promotion and unlike other BJJ fighters has stayed active on the BJJ competition scene while still training in MMA. His first 3 fights with the promotion have looked effortless and I am keen to see how he gets on with more skilled opponents.
However the demise of the 125lb division in the UFC since Demetrius Johnsons decision to leave the promotion may deter Malfacine to pursue MMA. Hopefully this is not the case as his skill set and speed looks tailor made for MMA.
Kron Gracie
 Kron is the son of the legendary MMA pioneer Rickson. He received his blackbelt at the age of 19.
He has been an active competitor all his life.In BJJ competition Kron has medalled at the most of the major Gi tournaments and also captured the prestigious ADCC title in 2013 in the 77kg division.
Kron is a long-time friend and training partner of the Diaz brothers and has featured in both their corners on fight nights over the years. He has helped them and their teammates prepare for MMA bouts for years before making his own MMA debut in 2014.  He won 4 fights before making his UFC debut in February 2019. In the fight he dominated his opponent in impressive fashion before finishing with a rear naked choke. He took home the performance of the night bonus too.
Rodolfo Viera
Rodolfo Viera is a 4 time BJJ world champion and has won numerous other major BJJ championships. Along with Maleficence he is the most accomplished grappler on the list.
In 2016 he decided to transition to MMA and made the move to Florida to train at American Top team. Since then he has had 6 MMA fights with 5 of those wins coming by submission. He made his UFC debut in August 2019 beating Oskar Piechota with his favored arm triangle choke.
Rodolfo is a physical grappler with good wrestling and an array of submission skills which make his style perfect for MMA. If he continues to make improvements in his striking he will have every chance of competing for a UFC title in the coming years.
Ryan Hall
Ryan Hall was first introduced to MMA fans through the Ultimate Fighter show. Despite losing his quarter final fight, Ryan got a second chance after one of the other housemates was forced to pull out due to injury. Hall capitalized on this opportunity and went on to win the entire show. The win gave Hall his UFC contract and the confirmation that his grappling style could be effective at the highest level of the sport.
The softly spoken grappler is the antithesis to what people may perceive to be the typical MMA fighter. Ryan is affectionately referred to as the wizard due to his amazing technical ability and dazzling skills.
Like other fighters on this list Hall has created a MMA style that dovetails perfectly with his Jiu-Jitsu. Because he does not fear a takedown, he is free to throw a vast array of kicks which he mixes up with Imanari rolls and wrestling. This style makes him a very tricky opponent for fighters and he has struggled to find matches as a result.
This article is contribution from Rónán , BJJ Brown Belt breakinggrips.com