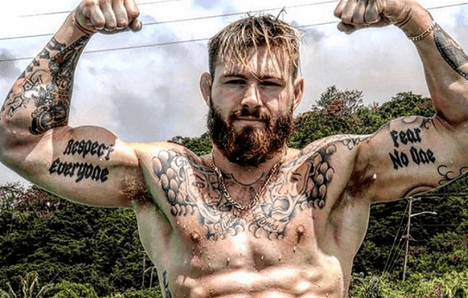 Love him or hate him, but you have to admit that Gordon "King" Ryan is one of the best right now. Or even the best. However, if his name doesn't ring any bells with you or you are just missing a few pieces of information why there is so much hype about him, this is the article for you.
Gordon Ryan in a nutshell
Gordon "King" Ryan is a 24-year-old American grappler (born in 1995 in New Jersey). His Weight Class is Super Heavy. While his Academies and Affiliations are Renzo Gracie NYC (He is the part of Danaher Death Squad) and Brunswick BJJ. He claims himself his specialties are "firstly – being loyal to the fans, secondly – making a shit ton of money, thirdly – never fucking losing".
Gordon Ryan sport career
He was introduced to Brazilian Jiu Jitsu quiet early, because as a teenager. At the age of 15, he began training BJJ under Miguel Benitez. However, it didn't last long. He was quickly (still as a white belt) taken under the wing of Tom deBlass and Garry Tonon. At that point in his life, Gordon was training only in New Jersey, at the Brunswick BJJ academy. New Jersey quickly turned out to be too small for him and he also started going to NYC to train under John Danaher in Renzo Gracie Academy. In 2016 he was promoted to black belt in BJJ.
Achievements
Gordon Ryan is referring to himself as a "King" and Greatest of All Time competitor in No Gi. Some may say he is just bragging. However, his undoubted success against some of the best grapplers in the world and the long list of wins, champions titles, etc. says something different. He is currently a 3-time ADCC world champion, IBJJF No-gi world champion and a four-time Eddie Bravo Invitational champion.
It all started in 2016, soon after he got his BJJ black belt. This year Gordon "not yet calling himself King" Ryan won the Eddie Bravo Invitational Championship. At this event, he defeated world champion Yuri Simoes and noted grappler Rustam Chsiev. Then he faced Keenan Cornelius in a no time limit, submission only match. Gordon Ryan won it with a heel hook. Which btw is said to be his favorite technique next to the triangle.
2017 was another good year for Gordon Ryan. He competed and won at ADCC. Gordon Ryan defeated Dillon Danis, Romulo Barral, Xande Ribeiro, and Keenan Cornelius and got a gold medal in the -88 kg weight division. He performed slightly worse in the absolute category and lost to Felipe Pena in the final, which got him a silver medal. The same year he won another EBI title and defeated Yuri Simões in the main fight of KASAI Pro.
In 2018 he competed at the IBJJF Pan No-gi and IBJJF Nogi Worlds in California. Both times he won gold medals in his weight category and the absolute division. As befits a king he did it all by submissions.
In 2019 Gordon "King" Ryan proved to the last unbelievers, he is unstoppable. At the 2019 ADCC World Championships in Anaheim, CA he was barely challenged by any of the opponents he faced. He won two first frights by rear-naked choke (Ben Hodgkinson in the opening round and Tim Spriggs in the quarterfinal). Then he had a more difficult match with Lucas "Hulk" Barbosa. Gordon "King" Ryan couldn't finish it by submission. However, he still won it with found the back locking on a body triangle for a decisive 3-0 win. In the final, he proved his dominance with a one-arm rear-naked choke against Vinicius "Trator" Ferreira. These 4 wins awarded him a gold medal in -99kg weight category.
If that all wasn't enough Gordon Ryan proved to everyone he is the ultimate King and also won the absolute division. One more thing is worth mentioning. He did it all just a few months after getting knee surgery.
Gordon Ryan plans for the future
Some time ago he was in The MMA Hour, where in an interview with Luke Thomas he admitted that his goal is to fight at the MMA at the master level. In that conversation, he said fighting in No Gi is way more exciting for him than competing in gis. Gordon "King Ryan" stated MMA is his final goal and that he had always wanted to be the best in MMA. Not the best only in grappling. His desire to move to MMA met with various reactions. For example, Keenan Cornelius said:
"I can't wait to see Gordon Ryan fight MMA, because he's going to get knocked out eventually, and it's going to be so satisfying. All of the jiu-jitsu guys who go to MMA, eventually they're going to get knocked out one day and it's going to be funny to watch. But I say that because I know I'm not going to do MMA because I'd get knocked out too! It's just the brutal reality of MMA. You're going to get knocked out in front of all your friends and family."
Although, these various reactions didn't discourage him. Gordon Ryan recently confirmed his transition to MMA and said he will be realizing his plans soon. So maybe in 2020, we will see his first professional MMA fight, who knows?
His key to being so recognizable
His incredible grappling success is certainly of great importance in the fact of his recognition. But I think the key here is a success in combination with being young, cocky, and with a bit extravagant style. About a person like this you are just talking. No matter if you hate him or love him. While seeing him in the crown etc. you just can't be indifferent. And besides that, he owes that he is so famous due to hard work and dedication. You can read about it more in one of his Instagram posts:
In New Jersey, they have to feed their children something else than normal food. It is suspicious that both Gordon Ryan BJJ/grappling No Gi GOAT and new BJJ star Black Belt Slayer Nicky Rod are from there.