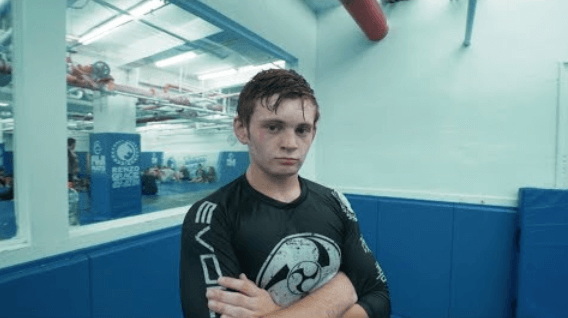 You probably heard about Gordon Ryan, right? You know, one of the best grapplers of the world, calling himself a "king" etc. Bud did you know he has a younger brother – Nicky Ryan? If not, it's high time to change it, because this guy is badass on his own.
Nicky Ryan in a nutshell
Nicky is still a teenager, he is only 18 years old
Already got BJJ brown belt
He is winning with adult, heavier black belts
Is part of the "Danaher Death Squad" and like everyone there Nicky has an impressive leg lock arsenal
Begining of his sport journey
Just a few years ago Nicky Ryan was an overweight kid, definitely not athletic. It changed thanks to Gordon, who brought him to BJJ practice and since then helped him every day in training. In the beginning, Nicky weight 175 pounds (around 80 kilograms) and was a bit chubby. In the only year and a half of training, he was able to lose 45 pounds (20 kilograms) and get abs. Since then he is gaining weight again. However, this time is pure muscles. You can observe this change on to which ADCC 2019 weight classes he was qualified. After winning the West Coast North American trials he was into -66 kg category. Then, bit surprisingly, he switched to the 77kg division.
Achievements
But let's not be ahead of events and go back a few years to appreciate his other successes before we get to his performance on ADCC 2019. Firstly we are in the year 2015. 13-year-old Nicky Ryan joined and won the adult category of the Kumite Classic BJJ and Grappling Tournament. He tapped out both of his opponents with heel hooks.
In 2016 he ended being third on North American ADCC Trials. As a teenager, he was able to compete in the adult division and submit 2 of his opponents by heel hook and only lose to very experienced Jason Hayden is semi-finals. Being just 15 years old Nicky Ryan got promoted to a purple belt. He also made history at ADCC 2017 (to which he got invited as a last-minute replacement) as being the youngest athlete to compete at the event ever. For the record, he lost, but that wasn't a point.
In 2018 young Ryan was fighting on the main card of the Polaris Jiu Jitsu Invitational. He won and one year later defended the title of Featherweight weight category champion. And that wasn't his only success in 2019. He qualified for ADCC World Championship and was able to win his first fight there. Later he lost to Paulo Miyao, but it was only by one point. Still, his performance was really impressive. After ADCC he got promoted for the brown belt (only two years after earning his purple belt).
What makes Nicky Ryan so good?
A lot of people are saying Nicky is just pure talent, even calling him "prodigy". Of course, he is talented, probably got good genes, etc., but what makes him really special is his dedication to what he is doing and how much hard work he puts in it. John Danaher described him as a "very mature, hard-working person who knows exactly what they want to be." Young Ryan really puts his whole heart into what he does. He is training every day, practically living at the gym. Nicky doesn't even go to school, he is homeschooled to spend more time on training. So when someone reduces his skills only to 'natural talent' is kinda disrespectful for him, because he works way too hard to have people calling him like this.
Moreover, the place where he trains also got an important role in his success. Niky Ryan is training at one of the best BJJ gyms in the world with some of the best guys alive (his brother Gordon, Nicky Rod, etc.). Plus he has a really great coach, arguably even the best BJJ trainer in the world right now- John Danaher. And what more important Nicky just listens to him. And besides, he also seems like a cool, focused guy who just knows what he wants and is focused to achieve it.
So what next?
What is he gonna show us in 2020? In BJJ forums etc people got high expectations towards him. They are saying he will be the best of the best. We just need to wait for him to stop growing and start lifting weights. Or as the malice say, start using steroids. Whatever it gonna be, for sure we can expect it will be something good, next big competition successes, etc.