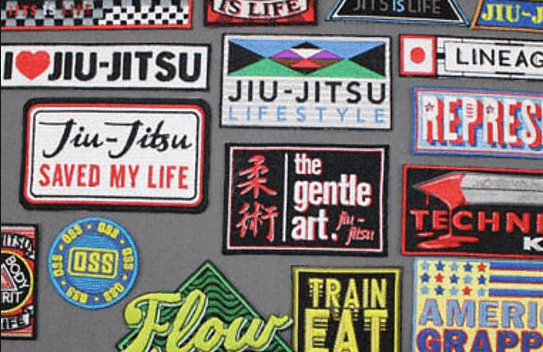 Bjj-spot.com is a participant in the Amazon Services LLC Associates Program, an affiliate advertising program designed to provide a means for sites to earn advertising fees by advertising and linking to Amazon.com
In BJJ you can mostly express yourself by crazy rashguards and leggings. However, if you are wearing a gi barely anyone can see what you got under it. So, you need to discover a different way to stand out. Of course, you can buy some very original gi, in some bright color or/and with some cool design. But there is also a cheaper and easier way to do it. You can just upgrade your basic gi with some cool BJJ patches. Below you can check our selection of the best ones.
Best BJJ patches
Shaka sign BJJ Patchs

Shaka – one of the most popular gestures in the BJJ world. You probably saw people using this symbol everywhere when posing for pictures, while saying hello, I'm good, etc. It's really popular, no wonder then that there are also BJJ patches with shaka sign. Online you can find different types of them. Some will only show the hand in the shaka gesture, others got something else added to them also. 
This one is quite simple. The patch is shaped like a hand in the shaka sign. Of course, fingers as professionally taped and this is associated with a nice detail of this patch. On the ring finger, you can spot small inscription saying BJJ. This detail is extremely nice considering the fact that it is rather a small patch (approximately 9 cm/3,5 inches). Also, you don't have to be afraid of applying it, it's easy, fast and you got instruction on how to do it. 
As a previous one, this patch also shows a hand with taped fingers in the shaka gesture. However, unlike the previous one, we have some inscription added here. One is saying "keep on rolling" and the other is just Brazilian Jiu Jitsu lettering. The whole patch is kept in nice shades of golden and navy blue. This one is also easy to apply and comes in two different sizes. Like the previous one you can buy smaller, approximately 9 cm/3,5 inches patch or a bigger one (approximately 22,5 cm/9 inches). 
BJJ patches with inscriptions
Sometimes a picture is worth a thousand words, but sometimes you just want a patch with some cool lettering. Thanks to human ingenuity, online you can really find many such BJJ patches. The choice is really big. 
The design of this patch is quite simple, it's just an inscription with two different fonts. The colors are also rather classic and limited to only black, white and red. However, the strength of this patch is its bold statement. Depending on who likes what, it can be an advantage or disadvantage, but this patch is quite small (around 4 x 5 cm/1,5 x 2 inches). 
If you are not a fan of the simplicity of the previous patch, this one will be much better for you. A lot is going on here. On a relatively small area (approximately 10 x 7 cm/4 x 3 inches) we have several colors, inscriptions, and shapes. It's a bit strange combination but it looks pretty cool. 
For the fans of classic, who at the same time are not satisfied with only simple lettering this patch will be the best. It refers to the Japanese roots of BJJ, by Jiu Jitsu written in kanji and "the gentle art" inscription. When it comes to colors the design is simple and resembles the first patch in this category. It is in kinda ok size (around 6 x 9 cm/ 3,5 x 2,5 inches). 
BJJ Patches with more Brazil vibe
As the name suggests it is Brazilian Jiu Jitsu. So, if you want to emphasize it very much, the following patches will be perfect for you. They all quite clearly emphasize this Brazilian aspect. 
This patch is practically screaming that you train BJJ. If anyone who sees you in a gi would have any doubts about the sport you train, thanks to this patch it will quickly find it out. This one is a bit bigger than the previous ones because it is 15 x 5 cm/6 x 2 inches. Design is kept quite simple, it's just "Brazilian Jiu Jitsu" lettering with Brazil flag, all in colors of the Brazilian flag. 
If you do not care so much about the full BJJ inscription, you are fine with just jiu jitsu, but still want to emphasize Brazil somehow this patch is for you. It's also a great one for fans of flags in general because there is not only one but two flags on this patch. It represents the flag of Brazil and the USA. The whole thing is surrounded by a golden frame, which makes this patch fancier. It's size is around 10 x 7,5 cm/4 x 3 inches. 
This patch will be good for full BJJ lettering fans but smaller flag enthusiasts. It's the round one with "Grappling" and "Brazilian Jiu Jitsu" inscriptions. In the middle there also people during sparring. Reference to the Brazilian flag is only on the background. Its size is around 9 cm/3,5 inches. 
Others BJJ patches

If you are not very attached to the direct relationship between a patch with Brazilian Jiu Jitsu a really wide selection opens up before you. There are so many cool, crazy, pretty ones out there. It's really hard to decide on some of the best because you practically can find a patch with almost everything. Below is our selection of patches that, although they have no direct relationship with BJJ, will still match the gi.
It is an awesome option for people who wants to add some authentic touch to their basic BJJ Gi. Thanks to that patch you will truly stand out. The awesome colors and intimidating design of this patch will definitely draw the attention of other people. Despite being not the biggest (approximately 15 x 13 cm/6 x 5 inches) it is very well detailed and colors are really intensive. The patch is gold blue, so it will look nice for example with a navy blue gi.
If you like the design of the above one you will like this one too. It's a bit smaller than the Ronin Emperor Samurai patch (around 10 x 10 cm/4 x 4 inches) but even more detailed. A lot is going on here, there is a mask, snake, and knife altogether. The main colors of the patch are black, red and white, so it will match, for example, a white gi with red accents. 
If you are not a fan of kinda humanoid patches, these masks, etc. are just not your thing, but you still like Japanese style things this patch will be perfect for you. This one in the shape of komainu – creature often called lion-dog. So, if you like animals and a little calmer colors you will like this patch. Its size is around 9,5 x 10 cm/3,75 x 4 inches and it's only in 2 colors, beige and interesting shade of green. 
A great choice for the fans of more classic design. These round patches show one of the most recognizable works of Japanese art in the world – The Great Wave. One is around 9 cm/3,5 inches and the other is a bit bigger 10 cm/4 inches. Thanks to the blue of the wave, this patch will perfectly match the blue gi.
Other cool design examples
It's simple, small patch (approximately 6 x 7 cm/2,5 x 2,75 inches) only in one color – red. Despite its simplicity, you can add it to your gi in a metaphorical way. It will show everyone on the mat that you really love BJJ and you put all your heart to the training. 
If you want to show your sparring partners that you are true beast not only by your performance during roll by also with your gi this patch will be perfect for you. Although a bit small size (around 8 x 9 cm/3,2 x 3,5 inches) it is really well detailed. The tiger looks really convincing and will definitely frighten your opponents. 
If a roaring tiger wasn't frightening enough for you try this medusa patch. For sure it will petrify your opponents, maybe even turn them to stone. Its size is around 10 x 11 cm/4 x 4,3 inches with green being the main color of the patch. It got also some cool red accents, like a red snake tongue, etc. 
Patches of your club
Of course, with this huge selection of awesome patches, don't forget about your club ones. Adding patches with the logo of your academy to your gi is a great way of showing that you are a part of a team and you are proud of it. Just don't go covered with logos of one BJJ club to some rival school, it might end badly for you. 
Rules of adding BJJ patches to your gi
As long as you adding patches to the gi, in which you don't want to compete in some tournaments, you can put them basically anywhere you want. Most of the academies won't really care about it. However, when it comes to competing it is a totally different kettle of fish. IBJJF got their uniform requirements, including also rules of adding patches to your gi. By their standards, you can place your BJJ patches only in authorized regions of the gi. On the picture below you can see how it looks exactly. Whatsmore, patches should be only of cotton fabric and properly applied. All patches in unauthorized areas or poorly applied will be removed by the GI inspector.